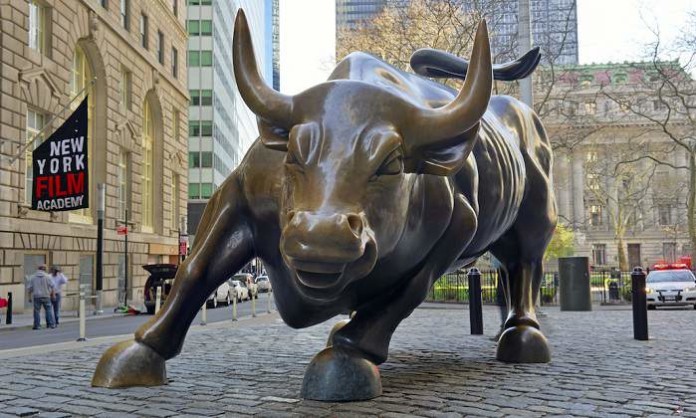 New York, Dec 23, 2015 (AFP) – A rally in beaten-down energy and commodity shares helped lead US stocks higher for the third straight session Wednesday as confidence rose that a "Santa Claus rally" had taken hold.
The Dow Jones Industrial Average rose 185.34 (1.06 percent) to 17,602.61.
The broad-based S&P 500 jumped 25.32 (1.24 percent) to 2,064.29, while the tech-rich Nasdaq Composite Index gained 44.82 (0.90 percent) to 5,045.93.
Commodity and energy stocks enjoyed a strong rally after a surprisingly big decline in US oil inventories lifted oil prices and spurred talk that the market may have bottomed out.
Dow members ExxonMobil and Chevron rose 3.3 percent and 3.9 percent, while metals companies Alcoa and Freeport-McMoRan jumped 6.6 percent and 16.0 percent.
Hugh Johnson, who runs the investment firm Hugh Johnson Advisors, said investors have been worried that the commodity and energy rout hearkens a worse-than-expected drop in demand from China and other key economies.
"Once you start to see some stability in oil and commodity prices, it gives you a little sense of relief," Johnson said.
Analysts also pointed to talk of a "Santa Claus rally" that often lifts stocks at the end of the year. Historically, the S&P 500 has advanced three out of every four Decembers.
US data showed US consumer spending rose 0.3 percent in November, while a read on durable goods orders came in above expectations and new home sales rose somewhat less than expected.
Nike fell 2.4 percent despite reporting that earnings for its fiscal second quarter increased 20 percent to $785 million behind a four percent increase in sales. Analysts cited valuation concerns after the stock's surge in 2015.
Biotech company Celgene surged 9.8 percent after announcing a settlement of litigation with Natco Pharma of India and its US partners that sets a timeline for the generic introduction of lenalidomide, which treats multiple myeloma. Analysts said the settlement removes a key uncertainty that has dragged on Celgene shares.
Bed Bath & Beyond dropped 4.6 percent as it projected lower profits and sales for the third quarter than previously thought.
It said its performance was affected by "the overall softness reported in the macro-retail environment during the quarter."